NNAS (National Nursing Assessment Service)
If you are an Internationally Registered Nurse (IEN) and you wish to work as a nurse in Canada, you will need to complete Registration with NNAS.
ONMRC NNAS VERIFICATION :
If student completed his/her  Nursing Registration from ONMRC(  ODISHA NURSES AND MIDWIVES REGISTRATION COUNCIL),then NNAS Assessment should be done from ONMRC.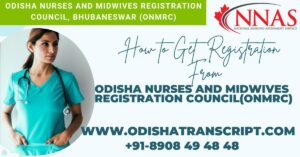 Document Required for ONMRC, NNAS Registration :
1. Online Registration Form
2. All Certificate & Grade Sheet
3. Registration Certificate Copy
4. Good Standing Certificate
5. Id Proof
6. Payment Receipt.
For Apply ONMRC transcript call : 8908494848 or Email : t3transcript@gmail.com.